Introduction
It can be difficult to navigate the intricate Canadian immigration system, which is why many people look for expert help.
Immigration lawyers and Regulated Canadian Immigration Consultants (RCICs) are the two main choices in Canada. While both professions are capable of offering worthwhile services, it's crucial to comprehend their responsibilities, backgrounds, and service offerings in order to make a well-informed decision. We'll discuss the main distinctions between RCICs and immigration attorneys in this blog post.
What is a Regulated Canadian Immigration Consultant (RCIC)?
A qualified individual who helps people with Canadian immigration issues is known as an RCIC. These advisors are permitted to represent clients before Canadian immigration authorities because they are subject to regulation by the Immigration Consultants of Canada Regulatory Council (ICCRC). RCICs are well-versed in immigration law and procedures, therefore they are always aware of new developments. Numerous immigration services, including as applications for temporary and permanent residence, work permits, study permits, family sponsorships, and others, can be obtained from them.
Qualifications and Regulations
To become an RCIC, individuals must meet specific criteria set by ICCRC. As mentioned in the College Immigration and Citizenship Consultants website, RCIC's must meet standard protocols to be in Good Standing with the board.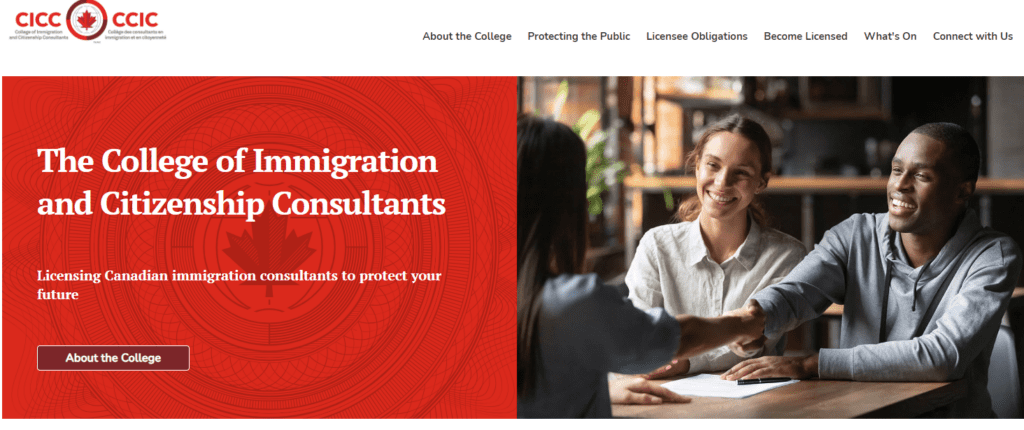 RCIC's must have a graduate diploma from Queens University, University of Montreal in French or completed the former Immigration Practitioner Program (IPP) within the last 3 years; have the English requirements; passed the Entry – to – Practice exam; and follow the licensing process to get your license.
"A Regulated Canadian Immigration Consultant (RCIC) is a licensed immigration consultant who can provide all immigration services to clients, such as:
Explaining immigration and citizenship options
Choosing the best program for you
Filling out and submitting your immigration or citizenship application
Communicating with the Government of Canada on your behalf
Representing you in an immigration or citizenship application or hearing" (CICC, 2023).
RCICs also continue their education to ensure and commit they are providing the best service they can to potential clients.
Please note that an RCIC must have the RCIC-IRB license to to represent and appear before the Immigration and Refugee Board of Canada.
What is an Immigration Lawyer?
Lawyers with a focus on immigration law are known as immigration lawyers. They offer clients legal counsel and representation. They are members of provincial law society and hold a legal degree. Immigration attorneys can represent clients in court if necessary and have a thorough understanding of immigration law and legal procedures.
Qualifications and Regulations
To become an immigration lawyer, in Canada, these professionals must obtain a law degree, pass the bar, and become part of their designated law society. Lawyers must adhere to the rules, regulations and ethical procedure set out by their respective law society.

Immigration lawyers offer a range of services, including:
Immigration lawyers guide their clients through the immigration process.
Depending on the case, they can represent you in court and appeals.
Provide legal advice.
Document preparation
Immigration lawyers are able o help you navigate through appeals and court; if your, for example, Study Permit was rejected, and immigration lawyer can take your case through court.
At Pax Law, Dr. Samin Mortazavi has appealed thousands of rejected Canadian study permits, work permits, and temporary resident visas (tourist visas) with an 84%+ success rate – estimated – each case is decided on its merits, and this does not guarantee future success.
Conclusion
Depending on your unique circumstances, it may be difficult to navigate through the Canadian immigration process. Regulated Canadian Immigration Consultants offer invaluable advice and support throughout the application process due to their in-depth understanding of immigration laws and regulations.
However, immigration lawyers add a legal perspective and can provide counsel in intricate legal situations.
Both professionals are essential in assisting people in achieving their immigration objectives in Canada.
To ensure you make a choice that fits your needs, it is advised that you assess your circumstances and get professional guidance as necessary. If you would like to book with one of our legal professionals, visit Pax Law today!
What are the primary qualifications and regulatory bodies that govern Regulated Canadian Immigration Consultants (RCICs)?
Regulated Canadian Immigration Consultants (RCICs) must mee the criteria set by the College of Immigration and Citizenship Consultants (CICC)
What are the primary qualifications and regulatory bodies that govern Immigration Lawyers?
Lawyers in Canada have different respected regulated bodies according to the provincial or territorial area they reside in. In British Columbia, lawyers are regulated by the Law Society of British Columbia (LSBC).
How do immigration lawyers differ from Registered Canadian Immigration Consultants (RCICs)
Immigration lawyers are professionals who have a law degree, passed the bar admissions, and are regulated by their law societies. RCICs focus on immigration matters, they must complete ongoing education to practice.