Don't let being refused a study or work permit, or an application for permanent residence, alter the course of your life. Contact Pax Law for assistance and we will work tirelessly to make sure you receive the best representation possible. We know that it can be difficult to go through this process alone, and we're here to support you every step of the way in your migration to Canada.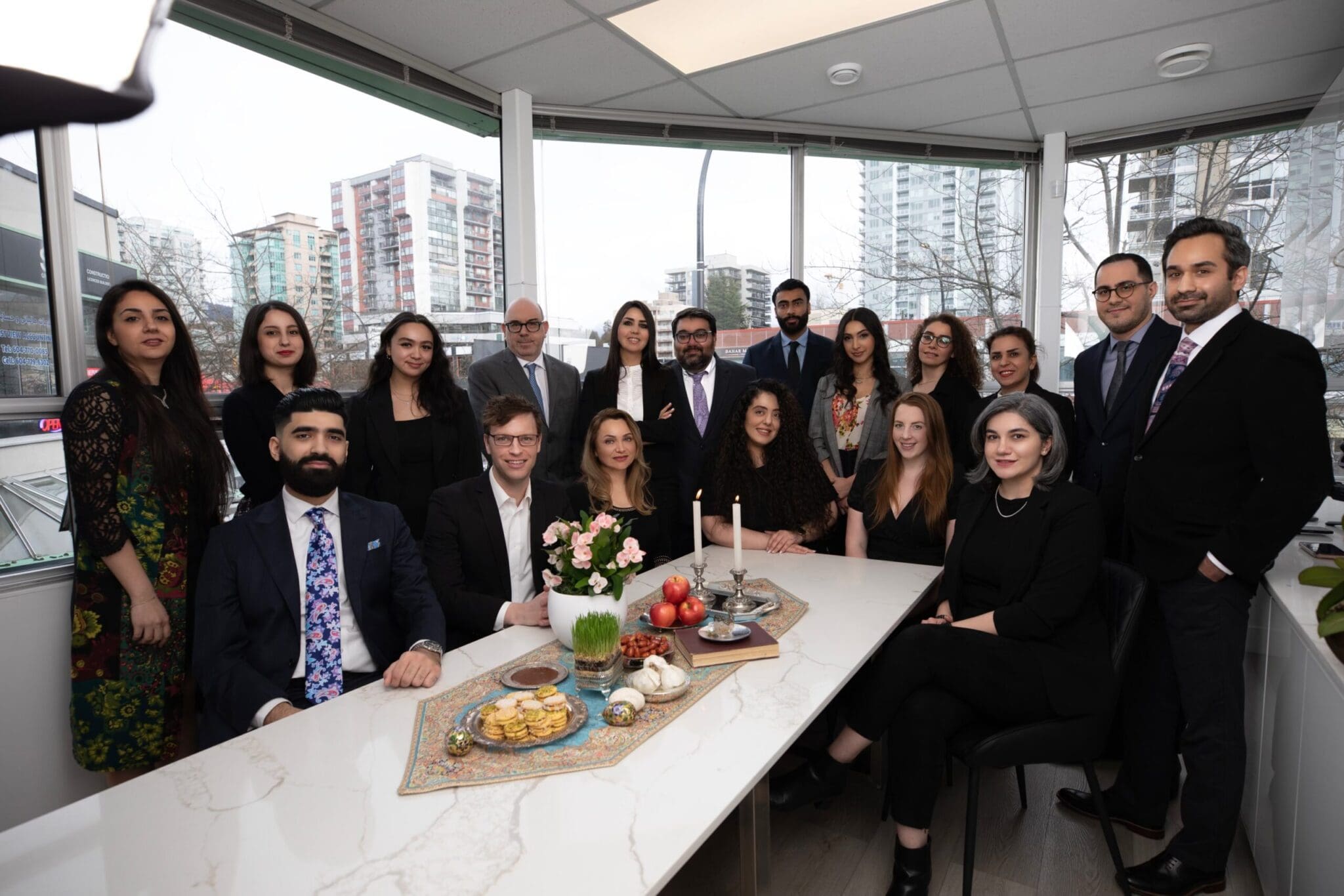 Pax Law is an immigration law firm that specializes in helping people migrate from China to Canada, especially those who have been refused a study or work permit in Canada. Our lawyers and Regulated Canadian Immigration Consultants are experts in this area and can help you through the process of appealing the decision or filing for a judicial review.
Opportunities for Chinese Immigrants in Canada's 2024-2026 Immigration Levels Plan
Canada's multi-year immigration levels plan is a testament to its commitment to fostering a strong, diversified economy through immigration. The 2024-2026 plan outlines ambitious targets aimed at addressing labour market shortages, promoting innovation, and sustaining public services across the country.
For Chinese nationals, this plan represents an opportunity to pursue a life in Canada through several immigration pathways. These include the Federal Skilled Worker Program, Provincial Nominee Programs, and family sponsorship, among others. Each of these programs is designed to address specific needs within the Canadian context—be it economic contribution, family reunification, or humanitarian provisions. As a significant source of skilled immigrants, Chinese applicants stand to benefit substantially from these immigration targets.
In recent years, Chinese immigrants have already established a vibrant community within Canada, contributing to the nation's multicultural identity and strengthening ties between the two countries. Whether it's through launching innovative startups, excelling in technology and research sectors, or enriching Canada's cultural landscape, the contributions of Chinese immigrants are widely recognized and valued.
The 2024-2026 plan does not only open the door to new applicants but also ensures that those who have made Canada their home can bring their families to join them. This focus on family reunification ensures that new immigrants have the support systems they need to thrive in Canada.
As one of the largest source countries for Canadian immigration, China will likely continue to play an essential role in Canada's immigration narrative during the 2024-2026 period. Chinese nationals who are considering this path may now have greater chances than ever to make Canada their new home.
2024-2026 Immigration Levels Plan
| Category | 2024 Target | 2025 Target | 2026 Target |
| --- | --- | --- | --- |
| Economic | 281,135 | 301,250 | 301,250 |
| Family Reunification | 114,000 | 118,000 | 118,000 |
| Refugees and Protected Persons | 76,115 | 72,750 | 72,750 |
| Humanitarian and Others | 13,750 | 8,000 | 8,000 |
| Total | 485,000 | 500,000 | 500,000 |
*Information is accurate as of November 2023. (source: https://www.canada.ca/en/immigration-refugees-citizenship/news/notices/supplementary-immigration-levels-2024-2026.html)
Immigration Opportunities in Canada Have Never Been Better
In 2021 the Government of Canada welcomed the most new immigrants in a single year in its history, with 401,000 new permanent residents, many migrating from China. Immigration, Refugees and Citizenship Canada's Minister, the Honourable Marco Mendicino announced on October 30, 2020, that Canada plans to welcome over 1.2 million new immigrants over the next three years. Canada's immigration quota calls for 411,000 in 2022 and 421,000 in 2023. Temporary resident visa approvals, for business and personal purposes, have also bounced back in 2021, and that trend is expected to continue into 2022.
The immigration opportunities in Canada have never been better, but entering a new country can be potentially daunting and stressful. In addition to the visa application process, you may have concerns about finances and employment, housing, access to services, the time frame, caring for your family, maintaining relationships, school, adjusting to life in Canada, cultural differences, language barriers, health and safety, and more. Handling the application process alone can be scary. Have you chosen the best immigration strategy for your circumstances? Will you have all the right documents, when you submit your application? What if your application is refused? It's easy to feel overwhelmed and lost.
Canadian Immigration Lawyer in China
Hiring a Canadian immigration lawyer to help you migrate from China can remove much of the uncertainty and anxiety from the process. There is no one-size-fits-all immigration solution. Which of the many immigration channels available is right for you depends on your unique situation. An experienced immigration lawyer, with in-depth knowledge of Canada's evolving immigration policies and requirements, can ensure that you meet the eligibility requirements and that you have all of the documentation you will need for each application step. Your lawyer can minimize the chance of surprises at the point of entry, and go to bat for you if your application is refused (rejected).
With expert guidance on your immigration options, and choosing the most effective strategy for achieving your plans, you will be able to proceed with quiet confidence. Retaining an immigration lawyer is an important step in making your entry into Canada from China a joyful transition. Your life is about to change in exciting ways, and the considerable burden of meeting all of the requirements for a smooth entry no longer rests upon your shoulders.
China to Canada Immigration Services
At Pax Law, we understand how overwhelming the immigration process can be, and we promise to be with you every step of the way.
We offer services that address all aspects of immigration from China to Canada, from the initial assessment and consultation, completion and processing of the application, to appeals to the Immigration Appeal Division on refusals, as well as judicial reviews of government decisions at the Federal Court of Canada. Our team of immigration lawyers and regulated Canada immigration consultants are aware of the frequency with which visa officers unjustly refuse a Canadian Study Permit, and we are equipped to respond accordingly. In just four years, we have overturned 5,000 decisions.
Our lawyers and Regulated Canadian Immigration Consultants can help you with Study permits; Express entry; Work permits; Federal Skilled Workers Program (FSWP); Federal Skilled Trades Program (FSTP); Canadian Experience Class (CEC); Canadian Temporary Residence Programs; Self-employed Persons; Spousal and common-law partner family sponsorship; Refugee application and protection; Permanent Resident Cards; Citizenship; Appeals through Immigration Appeal Decision (IAD); Inadmissibility; Startup Visas; and Judicial reviews at the federal court.
Was your Canadian Study Permit application refused (rejected)? Do you feel the reasons provided by the immigration officer were unjustified? If so, we can help.
3 Main Immigration Classes
Canada invites settlers from China under three classes: the economic class, the family class, and the humanitarian and compassionate class.
Skilled workers are invited under the economic class to help Canada's high expectations for everyday comforts. Canada has a maturing populace and low rate of birth which is the reason the greater part of the outsiders it invites are gifted labourers. Canada needs these talented specialists to help its workforce and financial development. These gifted specialists show up with coarse speech abilities, work insight, and training, and want to succeed. Henceforth, they assume a fundamental part in Canada's endeavours to help monetary development and social administrations, for example, training and subsidized medical coverage.
The second-biggest worker class shows up through family sponsorship. Canada invites the friends and family of Canadian residents and long-lasting occupants since solid families are the bedrock of Canada's general public and economy. Permitting close relatives to assemble a day-to-day existence in Canada furnishes families with the passionate help they need to flourish in the nation's general public and economy.
The third-biggest class is invited for humanitarian and compassionate purposes. As one of the world's most special countries, Canada has an ethical constraint to give well-being to those escaping abuse and other difficulties, and Canada has a long custom since the finish of the Second World War of showing compassionate administration. In 1986, the United Nations granted individuals of Canada the Nansen Medal, which is the UN's most noteworthy honour for the people who show greatness in aiding outcasts. Canada stays the solitary nation to get the Nansen Medal.
Programs for Permanent Residence
There are a number of Canadian immigration programs, or "classes", that will allow a foreign individual or family in China to apply for permanent residence in Canada
Those looking to stay in Canada long-term may apply to the following:
Express Entry

Federal Skilled Workers Program (FSWP)
Federal Skilled Trades Program (FSTP)
Canadian Experience Class (CEC)

Self-employed Persons
Family Sponsorships
Refugees
Canadian Temporary Residence Programs
Individuals applying under any of the above classes will have to satisfy the application requirements set out by Citizenship and Immigration Canada (CIC). You can find those requirements here.
Additionally, almost all of Canada's provinces and territories can nominate people to immigrate to Canada from China through the Provincial Nominee Program (PNP). These nominees are required to have skills, education, and work experience to contribute to the economy of that province or territory. To be admitted to the Provincial Nominee Program you must apply to be nominated by a specific Canadian province or territory.
If you have a legitimate fear for your life upon returning to your home country, we can help with the legal processes involved in applying for refugee status. It is important to note however that Refugee Applications are only for those with a legitimate claim; our immigration lawyers DO NOT engage in fabricating stories to help clients stay in Canada. The affidavits and statutory declarations we help you prepare MUST be true and reflect the facts of your situation. If clients misrepresent facts in order to secure a favourable decision, they might become inadmissible to Canada for life.
There are also several options for those looking to visit Canada for a shorter duration of time. Foreign nationals from China are allowed to enter Canada as a tourist or temporary visitor, as a student with the purpose of attending a school program for more than six months culminating in a diploma or certificate, or to work temporarily in Canada as a temporary foreign worker.